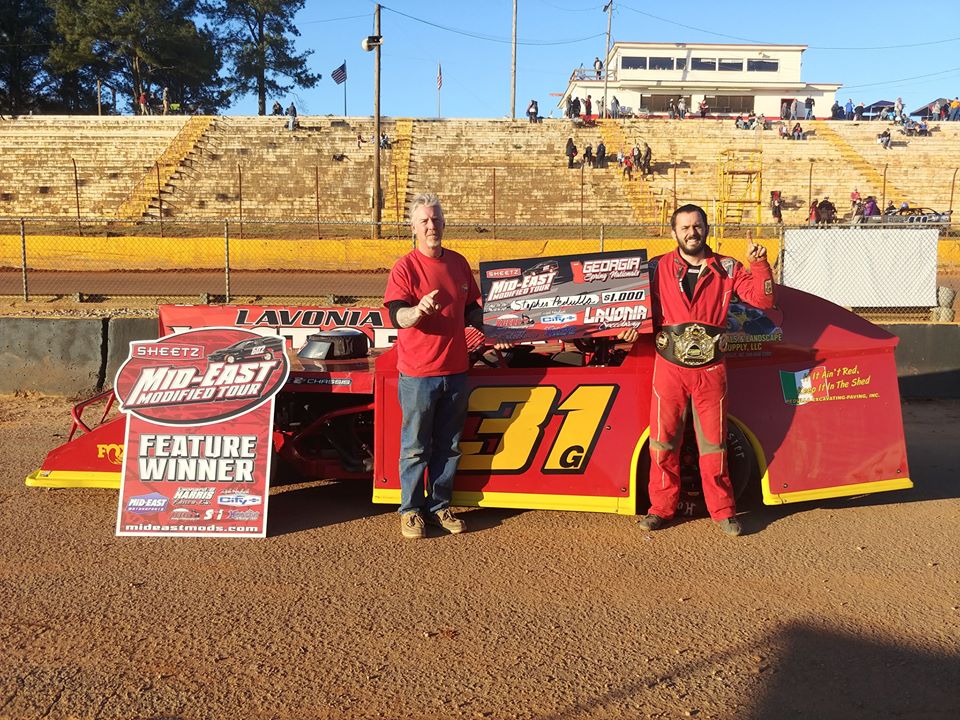 Pedulla sweeps season opener.
Stephen Pedulla opened the 2020 Sheetz Mid-East Modified Tour in style Saturday afternoon at Lavonia Speedway for the Xcell Grading and Waterproofing South Region. Pedulla started the afternoon by setting fast time in Pedulla Excavating and Paving Inc. Qualifying over the 17 car field. From the drop of the green flag it was all Pedulla who got the jump on local late model standout Kenny Collins who was making his debut in a modified. The lone caution of the event came out on lap 4 for a incident involving Cole Hedrick and Daniel Thomas. once again on the restart Pedulla would jump out front and cruise the rest of the way to his first career Mid-East Modified Tour victory. Collins would hang on to second ahead of 2019 Mid-East Modified Tour Rookie of the Year Jeremy Steele, Greg Brown and Andrew Durham to complete the top 5. Jeff Robinson, Lawson Rogers (Rookie of the Race) Chris Stowe, Kris Callahan and Chris McKeehan rounded out the top 10.
The next event for the Sheetz Mid-East Modified Tour will be round 2 of the Xcell Grading and Waterproofing South Region with the Skyler Trull Memorial at Carolina Speedway this Saturday March 14 $1,000 to win $100 to start.
1. Stephen Pedulla
2. Kenny Collins
3. Jeremy Steele
4. Greg Brown
5. Andrew Durham
6. Jeff Robinson
7. Lawson Rogers
8. Chris Stowe
9. Kris Callahan
10. Chris McKeehan
11. Daniel Thomas
12. Chris Nickerson
13. Daniel Allen
14. Dean Noseworthy
15. Hank Taylor
16. Cole Hedrick
17. Shane Strickland